Join the veteran-owned business movement - turn your talents into a company that serves others!
Brainstorm your ideas. Revise your notes. Impress your stakeholders.
GUIDED Business Plan™ | Military CEO
Recommended by a Marine.
"I come from a family of entrepreneurs and Marines. This book alone could save a transitioning vet hundreds, if not thousands of dollars, on business development. I started my company more than ten years ago before the military started offering entrepreneur orientations. I get asked for advice from young ex-military because they don't have the basic foundation that is clearly outlined in the GUIDED Business Plan | Military CEO. For basically, the cost of lunch, one could write a business plan and then some."
David Perez, MBA | Marine Corps veteran | Board Member, Military Veteran Commerce Committee, Beverly Hills Chamber of Commerce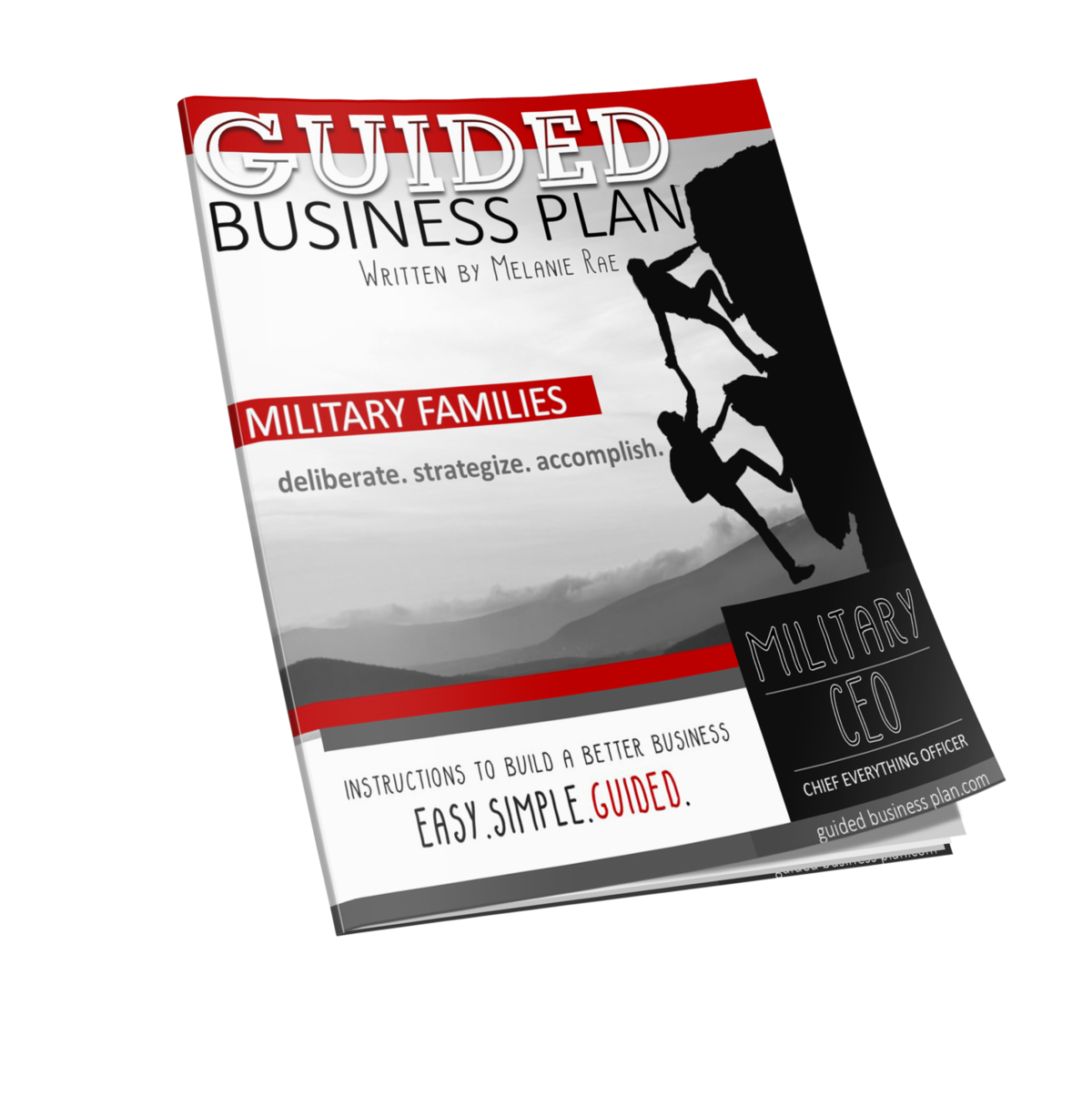 GUIDED Business Plan™ | Military CEO book and course materials to bring together military-connected families to build a path to economic independence.

Retired or separated.
Veteran or spouse.
Domestic or abroad.

Our books are interviews that speak to the backgrounds of families who serve.
We believe that men and women who volunteer to protect the tenets that America stands for should be thanked and supported throughout the year, not just on major holidays.
Build your own entrepreneur brigade by joining forces with other ambitious business
owners who are working on their plan.
For New Business Owners
Start working on your action plan immediately to determine the who, what, where, why and how of your business goals. Spend 10, 30 or 60 minutes at a time and you will have a strong foundation sooner than you think.
Start by brainstorming – the first thing that comes to mind – and turn those ideas into a written plan of action to grow your company.
You will answer the who, what, where, why and how of your business in just the first chapter. You will better understand how to research the opportunities for your type of business. You will profile who is going to be the easiest to sell to and how to promote your business. You will estimate costs, pricing and sales projections.

The 52-page booklet is compact but you will have a clear understanding of what you want from your business.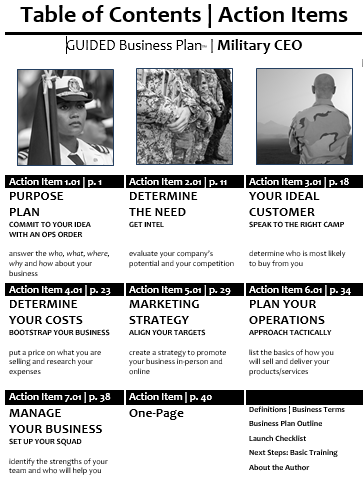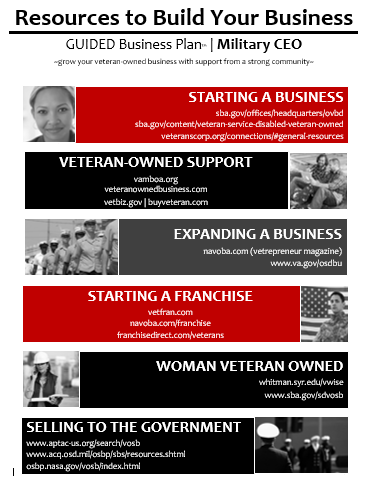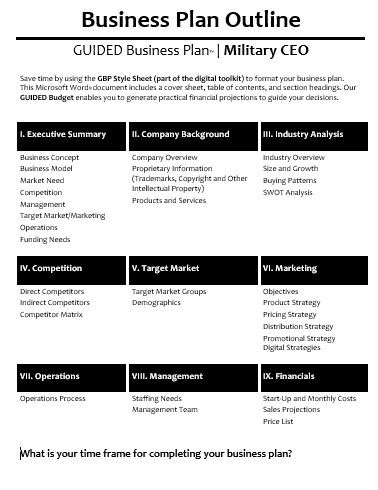 Our GBP | Military CEO edition lists loans and resources that are specifically for veteran-owned businesses.
Action Items in the GBP | Military CEO edition
Purpose Plan | COMMIT TO YOUR IDEA WITH AN OPS ORDER
Determine the Need | GET INTEL
Your Ideal Customer | SPEAK TO THE RIGHT CAMP
Marketing Strategy | BOOTSTRAP YOUR BUSINESS
Determine Your Costs | ALIGN YOUR TARGETS
Plan Your Operations | APPROACH TACTICALLY
Manage Your Business | SET UP YOUR SQUAD
Outline
Launch Checklist
Next Steps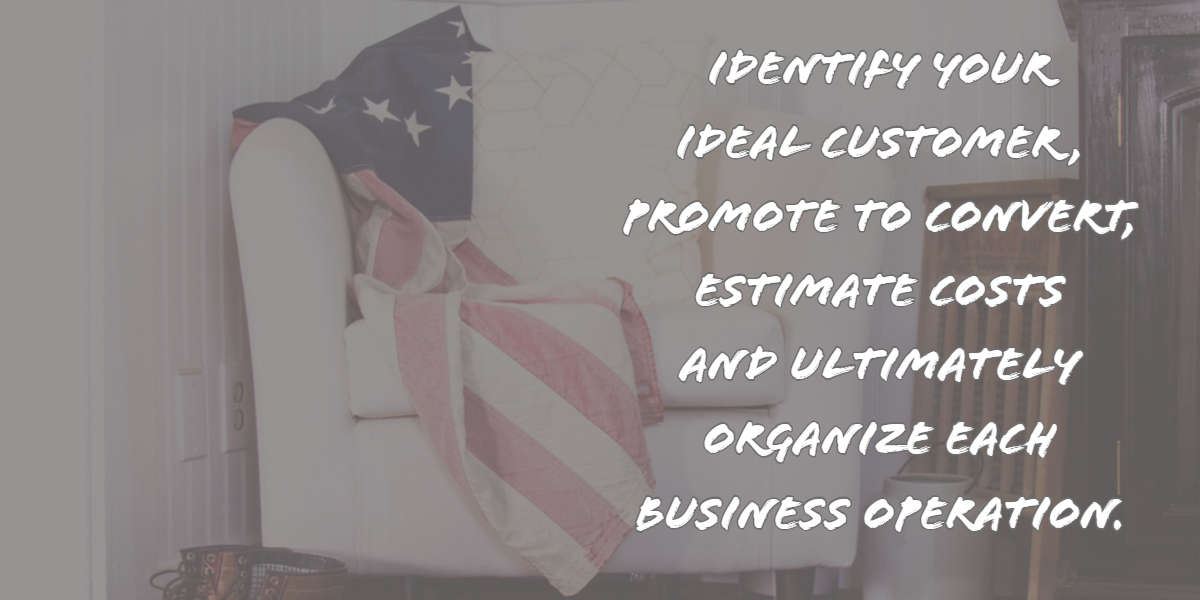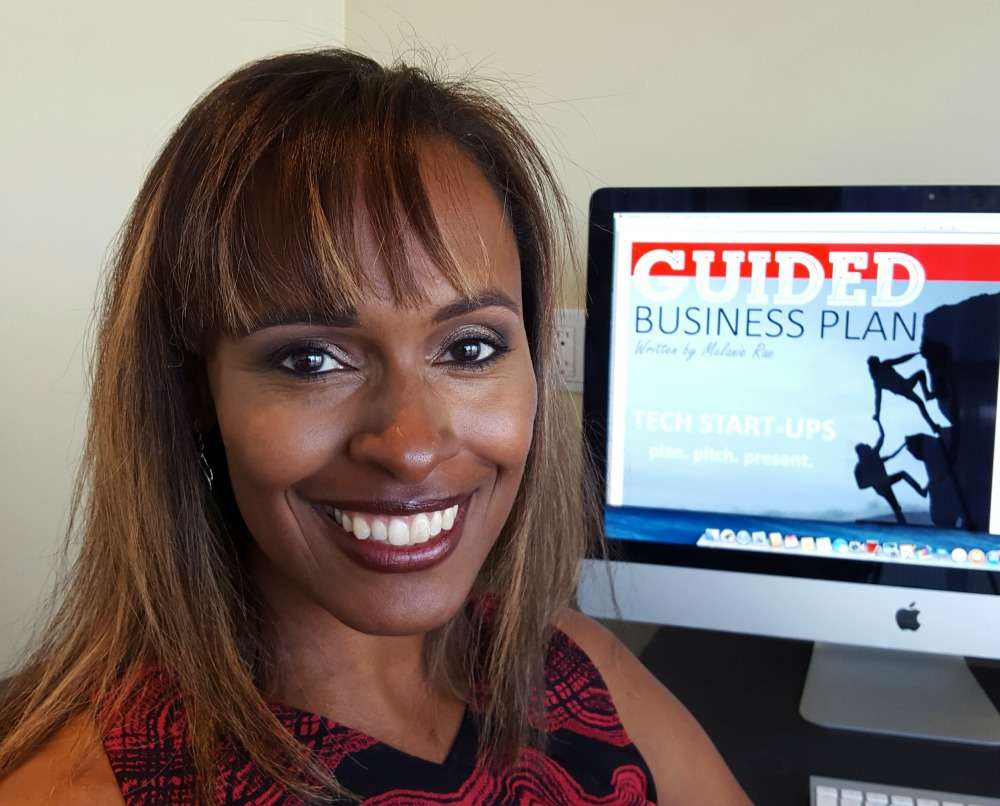 I meet with veterans and military spouses every month – online and in-person – to build their sales confidence as a business owner. See below for more details. We have incorporated their feedback to produce a book that speaks your language.
Think of your business plan like an Ops Order to direct the outcomes and resources required to perform your plan. Your Military Occupational Specialty can be deconstructed to determine the strengths and opportunities for your business.

Please share your progress with us via Twitter @GuidedBusiness #GBPContracts. Thank you!

Melanie Rae
Founder + Author | Guided Business Plan
Our books have inspired thousands.
Want to know what we know?
Receive periodic inspiration to grow your business!
Things to keep in mind...

Description | 52-pages, color, saddle stitch


Retail Price: $39.95
Discounts are available for
not-for-profit organizations
.
Digital Toolkit:
Organize your business plan with tools to format your business plan and a spreadsheet for financial projections. Only $20. View details and add to cart.
Shipping Cost: ~$6.40 | Current U.S.P.S. Priority Shipping rates applies to all individual orders. Allow up to two business days to process your order. Back-order may take 7 business days.


Return Policy | All sales are final. Great care is taken to remove typos and grammatical errors. While rare, a book may be printed incorrectly and we will gladly replace the book upon receipt of a picture of the error.



Audiences for the GUIDED Business Plan™ | Military CEO book:


Small Business and Entrepreneur Education Programs: Small Business Development Centers (SBDC), Women's Business Centers (WBC), Minority Business Development Agency (MBDA), state and municipal Economic Development Departments, Microenterprise Centers, Accelerators and colleges and universities.


Individual Entrepreneurs: Pre-venture, start-ups and early-stage businesses