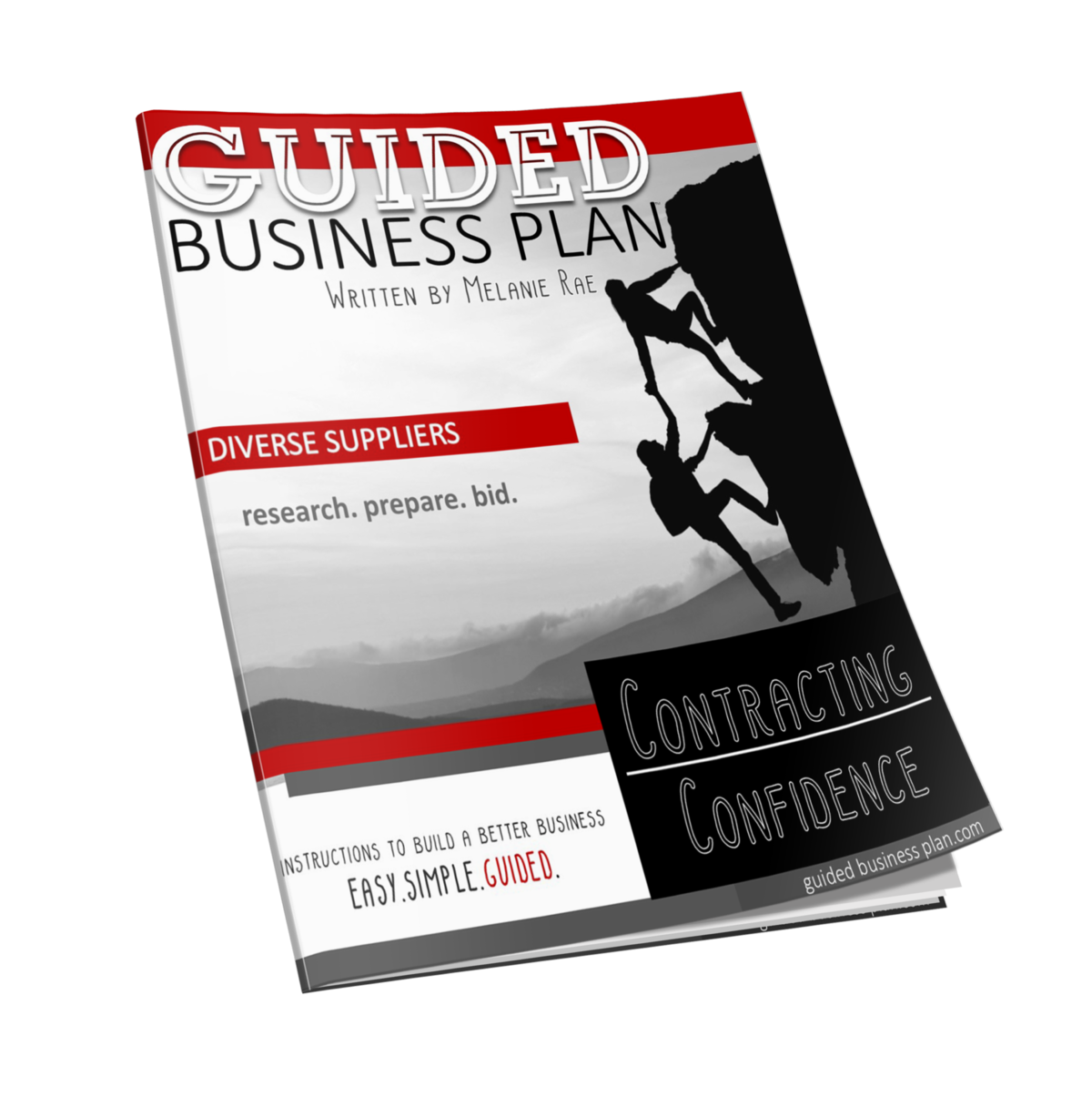 Impress your decision makers.
The first time.


Gain confidence to grow your existing small business by bidding on government and corporate contracts.

You could pay thousands of dollars for a consultant to tell you the same instructions that are clearly laid out in this book. Ever heard of the Billion Dollar Roundtable®? Companies spend beaucoup dollars with small businesses yet only a small percentage of talented business owners pursue these opportunities.
Our GUIDED Business Plan™ | Contracting Confidence book will show you how to introduce your company with a capability statement, generate meaningful content that is crucial in a proposal, and pull together the right endorsements and support team for your proposal.


Key Reasons to Buy
This book was designed for microenterprises that have a small team, big ideas, and modest bank accounts. The first chapter answers the "what's in it for me" question by sharing websites to find ideal contracts.


Learn tips to appear on more lists of potential vendors
Know how to introduce your company's solutions to buyers
Develop marketing tools and proposal content
Identify sales opportunities -- obtaining a contract is still making a sale
Determine the paperwork needed to become "project-ready"
Compare certification options to distinguish your company from your competition
Wow a decision maker by knowing what they want to hear when they meet you
Bonus! Organize your process with our GUIDED Bid Journal spreadsheet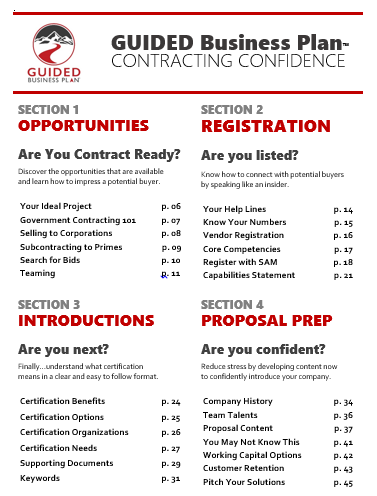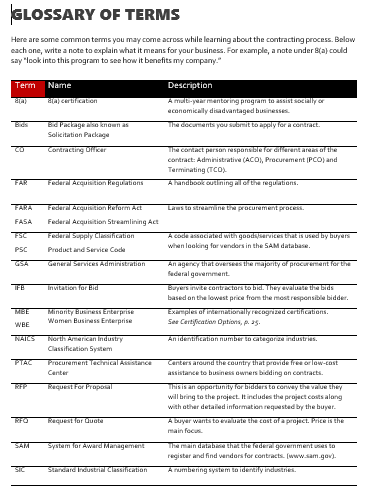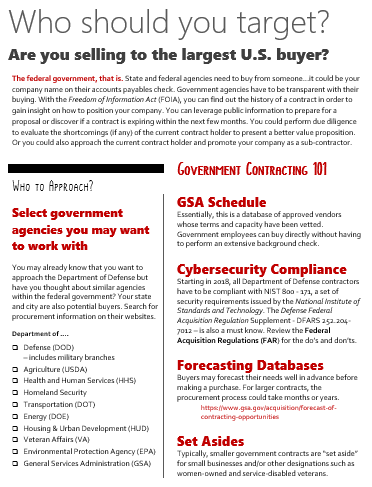 Our books have inspired thousands.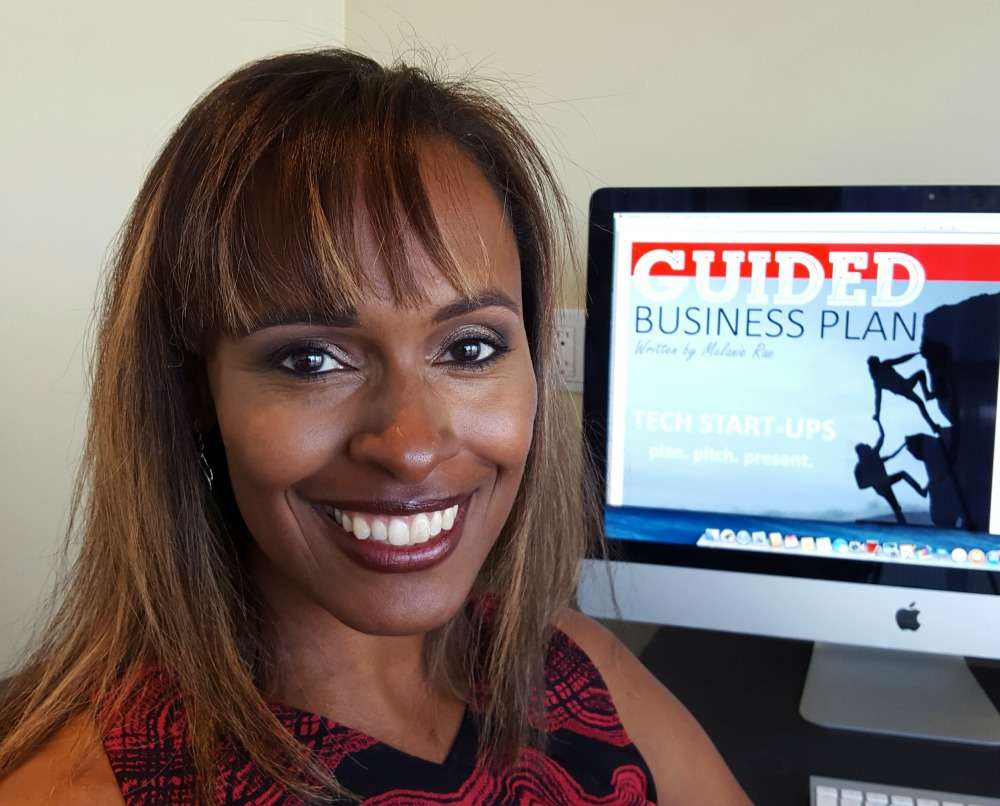 Are you passing on the opportunity to become a 7-figure company? Government and corporate agencies buy just about everything. If the same vendors keep applying for the contract, then they are going to get it. Only a tiny fraction of capable businesses are introducing their company's solutions to buyers with larger budget. Will you be next?
Please share your progress with us via Twitter @GuidedBusiness #GBPContracts. Thank you!

Melanie Rae
Founder + Author | Guided Business Plan
Want to know what we know?
Join a special list just for suppliers and SD&I professionals.
Things to keep in mind...
"I can't believe how much I was able to get done in such a short period of time. Melanie keeps you on track and does a great job at refocusing you to get the best use of time." - M. Cauley, LCSW, WBE certified business owner



Description | 52-pages, color, saddle stitch


Retail Price: $49.95
Discounts are available for
not-for-profit organizations
.
Digital Toolkit:
Complimentary. Organize your process with our GUIDED Bid Journal spreadsheet.
Shipping Cost: ~$6.40 | Current U.S.P.S. Priority Shipping rates applies to all
individual orders. Allow up to two business days to process your order. Back-order may take 7 business days.


Return Policy | All sales are final. Great care is taken to remove typos and grammatical errors. While rare, a book may be printed incorrectly and we will gladly replace the book upon receipt of a picture of the error.



Audiences for the GUIDED Business Plan™ | Contracting Confidence book:


Strategic Growth Plans and Supplier Development Programs: Small Business Development Centers (SBDC), Women's Business Centers (WBC), Minority Business Development Agency (MBDA), corporate Supplier Diversity and Inclusion divisions, state and municipal Economic Development Departments, Microenterprise Centers, Accelerators and certification agencies such as WBECN, NMSDC, National Veterans Council, NAVOBA and NGLCC.


Individual Entrepreneurs: Established small businesses (2 years or more)