Veteran Owned-Business Plan Classes
Veteran Owned-Business Plan Classes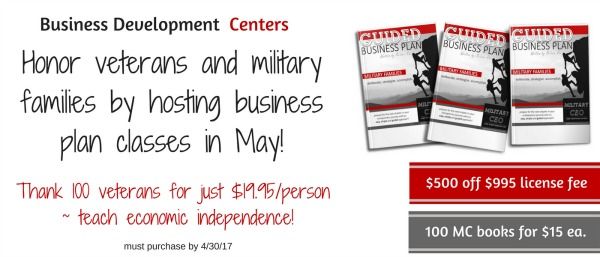 Save money as you host a business plan class for military-connected entrepreneurs! 
This is the first time we are offering 50% off  both the GUIDED Business Plan | Military CEO license and books!
Purchase by April 30, 2017 and save hundreds off much need training for veterans!
Now is the time to spotlight veterans if your center does not already offer business development classes that inspire peer planning.
Statistics form Disabled Veteran Business Alliance:
8M military members served since 1991

6.6M are now out of the service

Today, 40% of Veterans are expected to be self-employed or business owners vs. 10% from Vietnam era

Veterans are 70% more likely to be successful than non-Veteran owned business

1 out of every 10 small businesses in the U.S. are Veteran owned (3.7M)
Our GUIDED format has received praise across the U.S.!
Our founder Melanie Rae was recently honored for her work with veterans (March 2017). Los Angeles SBA District Director Victor Parker and RISE Financial Pathways President Forescee Hogan-Rowles presented the award. Congresswomen Maxine Water's special projects coordinator Hamilton Cloud is also pictured.The GUIDED Business Plan | Military CEO is making a difference one veteran/military spouse at a time.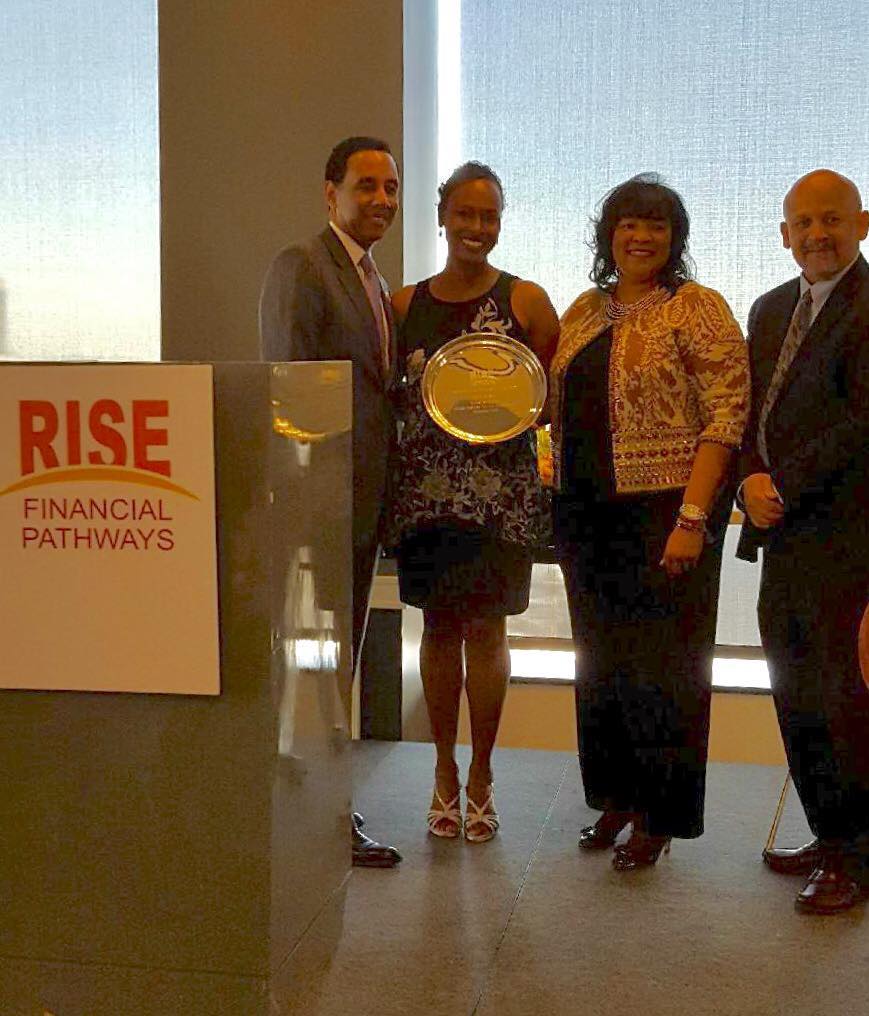 Test it with your clients and see the GUIDED difference!
Order 10 GUIDED Business Plan | Military CEO books for the disounted price of $199.95 plus $10 handling. Help 10 veterans set the foundation for their business dreams. Or take advantage of our April promo and reach 100 veterans!
Share your veteran class with you local media prior to Memorial Day to increase exposure for the good work you do with veteran-owned businesses (veterans, military spouses, active duty, reservists).
Email or call us at 888.523.5244 x704 to get started by April 30, 2017
SUCCESS STORIES FROM BUSINESS DEVELOPMENT CENTERS 
Women Venture in Minneapolis has incorporated the GUIDED Business Plan™ as one of their cornerstone programs
The Center for Women in Enterprise hosts a variety of classes in New Hampshire, Massachusetts, and Rhode Island with our books. Thank you for being our longest client – 6 years!
The Pacific Coast Regional Small Business Development Center in Los Angeles continues to attract clients by offering a GUIDED Business Plan™ prior to meeting with advisors.
The Small Business Development Center in South San Diego started to implement waitlists for their 6-hour class held over two days).
How may we help your organization GUIDE others?
888.523.5244 x704